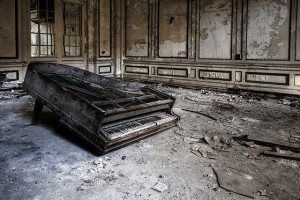 Reclaimed Piano Keys…
Illegal?
Reclaiming piano keys have been a great way to utilize a resource that would otherwise curl away on abandoned pianos or get put into the trash after being replaced.  They are often chipped, discolored and are otherwise useless for their intended purpose.  Sadly, they are from elephants and though long-since dead, are unsellable in today's market or will be soon.
Piano key ivory is thin, usually 1mm thick but made great bookmarks or when glued to the outside of a box or zippo lighter made a great miniature canvas for the modern scrimshander.
So far, we have only tried one supplier of alternative ivory keytops and frankly we are not impressed.  While the material looks alot like ivory keytops, they fall short for our use.
The piano keytops we purchased online probably work very well for replacement keytops and would blend in quite well with little effort, so realize it's not a slight on their intended purpose, but for scrimshaw, they are soft – too soft for anyone who wishes to create a treasure to sell or give as a gift.  That being said, they are very inexpensive and would work great for beginners or the young if you were to create a class project that students or day campers could try their hands at and would give them a treasure of their own design.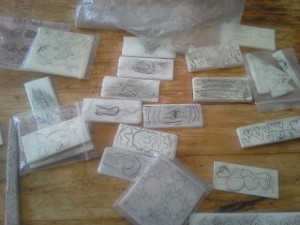 My set of keys have been used by my industrious daughter to create a bagful of her own scrimshaw, and she has had a great time working with it. She also found my other material including some very nice mammoth ivory which now has her beginning scrimshaw art carefully tucked away, since she created them and presented them to me for my birthday.  Can't get angry for that, it was a thoughtful idea, and I wouldn't sand them down if they were the last pieces of mammoth ivory on earth.
If you need piano key replacements or an inexpensive miniature alternative ivory "canvas" for busy industrious hands you can pick them up here: http://www.ebay.com/itm/Piano-Keytops-Simulated-Ivory-for-replacing-key-top-/110428048307
~~~
Ivory Ban News
iKnifeCollector has introduced two bills to protect knife collectors from the ivory ban
Legislation to stop the U.S. Fish and Wildlife Service from seriously harming millions of Americans by unnecessarily banning interstate commerce of decades-old legal ivory and products containing legal ivory, such as ivory handled and ivory decorated knives, was introduced in both the House and the Senate. Representatives Steve Daines (MT) and Jeff Miller (FL) sponsored H.R. 5052, and Senator Lamar Alexander (TN) sponsored S. 2587. These bills complement a House appropriations bill passed out of sub-committee on July 9th that would defund Fish and Wildlife Service' enforcement of its irrational new ivory policy that needlessly punishes innocent Americans, while allowing the Administration to protect African elephants and other wildlife from poaching.
Please CALL or EMAIL your Representative and Senators TODAY and ask them to Co-Sponsor H.R. 5052 and S. 2587.
Find your Representative: http://www.house.gov/representatives/find/
Find your Senators: http://www.senate.gov/general/contac…nators_cfm.cfm
From iKnifecollector
~~~
We're on vacation for a week, may bring some tools and pieces to pass the time. I've been working on a couple of cougars, one on "Alternative Ivory" and one on Tagua nut, So far, they're shaping up nicely, though a snack on a chewy granola type bar has cracked one of my ivories and will be going to get the rest of it extracted later today…
Coming up soon: Casein Revisited: we'll be reviewing casein made in 3mm sheet form from England (it's on a tall ship making its way across the "pond" as I write), more ivory alternatives and then we'll be starting to focus on techniques in the newsletter.  Any suggestions, any frustrations you may be experiencing either starting or finishing a piece of scrimshaw? Write to "questions@scrimshaw.com" and we'll be glad to help