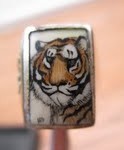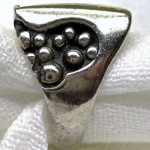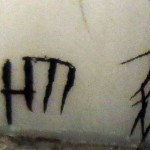 Bought in Indiana in the early 1980's, this piece is inset in a ring.  The colorized tiger is scribed on a white substance that was said to be mammoth ivory. Inside of the ring is stamped "Sterling". Note: While most cuts of ivory do show some grain, in some instances when the ivory is cut wide enough across the "face" (top surface), the grain may not appear unless you use a high power microscope.
There is the faintest bit of color variation in the "chin" area, also some near the initials, showing what appears to be a grain to the material.  A clearer photo at the same resolution may reveal some grain.  There appears to have been a slight "chipping" on the lines that create the initials, this can be due to either brittle material, slightly dull tool, or both.
If anyone knows the artist, the owner would love to know more about them and the ring.  Thanks for looking!