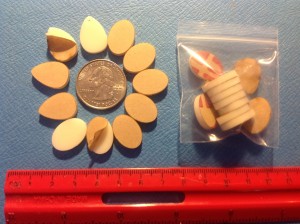 Low cost acrylic cabochons for scrimshaw – Industry standard 18x13mm oval cabochons and 18x13mm teardrop shapes precision cut and undrilled. Paper protects both sides. A light sanding of the edges makes a beautiful necklace or earring cab for you to scrim. You get 20 22 pieces: 14 ovals and 8 tears to scrim mermaids, birds, ships – let your imagination run wild! Comes with templates for ships and more based on "The Scrimshander's Secret Scrapbook of Whaling Era Illustrations", "Scrimshaw? But I Can't Draw!" and more (quarter and ruler shown for scale and are not included).
Only $16.95 Including Shipping and Handling! 
U.S. Only. Email us if you are outside of the United States so we can subtract the domestic shipping and add the international shipping.