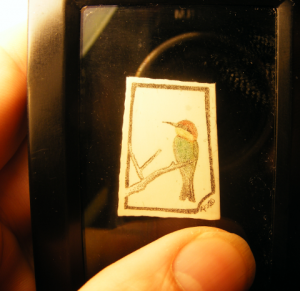 Bee Eater Scrimshaw on Mammoth Ivory and on a Lightswitch
The Williamsburg Church Fair has come and gone, and I couldn't squeeze in the time to create a Williamsburg themed scrimshaw.  So instead, I brought along a Bee Eater Scrimshaw on Mammoth Ivory.  The fair went well, they were able to raise over $6,000, though I'm sure my scrimshaw only did a fraction of a percentage of that much.  The hasty picture I shot was in a frame that I removed since I couldn't get the glass clean – something left a film on it I couldn't get rid of.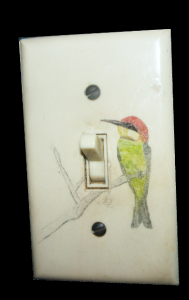 I had done one bee eater on a lightswitch before I had done the one on the mammoth ivory (pictured).  They were both done in stipple style.  The light switch took an incredible amount of time as I remember, I was pleased when I moved back over to the ivory.  Light switches are made of nylon, which is a lot harder than ivory, and I did not have my trusty Coulter precision scrimshaw tool at the time.  I will have to do another lightswitch using this tool to see how it works.
I have a few scrimshaw kits available which I will be selling soon (sold out of the last batch before I could put them online!).  I will be adding a digital copy of "The Scrimshander's Secret Scrapbook of Whaling Era Illustrations" to the four remaining color kits.  Email me at aperkins@scrimshaw.com with "Scrimshaw Kit Early Bird" in the subject before I get them on the Scrimshaw Kit page and I'll put in a little extra something for you, too, as long as there are any left.  They will be selling for $39.95 shipped USPS Priority Mail.