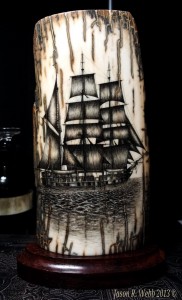 Jason R. Webb's first ship on mammoth ivory now on sale! Jason created this ship in 2013 on a piece of mammoth ivory from Alaska. Standing 5″ high by 3″ wide the patina of the mammoth ivory adds to the mysterious and almost ancient appearance of the scrimshaw.
Jason typically scrims the whole piece, relying on a bright light to show the lines he has carefully scribed into the ivory instead of the more common scribe/ink/repeat. His style is an intricate series of fine lines. His textures are intricate yet each of his pieces are bold. Jason notes: "… The actual work time (in hours) involved on this piece is really hard to figure. I worked on it from 04/23/13 to 08/07/13, so almost 4 months, not everyday of course, but I would work on it a few hours per day, then skip a day or two etc.. The hours were many, but I have no idea exactly how many. I imagine I work a little slower than most scrimshaw artists, possibly because I'm new to scrimshaw, but the extra time I spend on a piece will not necessarily determine the amount of money I will charge someone. It reflects the amount of detail and quality I think everyone deserves, and what I demand from myself as an artist. There aren't too many scrimshaw artists out there, and I am only one of the few, I do not expect this art form to sustain me, as only God sustains me, and allows me to do anything."
In 2013 Jason entered the piece into the International Scrimshaw Competition held in Wickford, Rhode Island, an annual scrimshaw competition.
Clicking on the pictures below will bring them up to full size:
Originally priced at $2800, Jason is offering this piece for $1500. Serious inquiries can contact Jason via the form below:
Note: due to the fact that this piece is NOT elephant ivory but mammoth ivory by proof of the Schreger lines having a less than 90 degree angle, it is assumed that this is legal for sale in the United States of America EXCEPT for California. See http://www.fws.gov/lab/ivory_natural.php for the Fish and Wildlife's Forensic Laboratories for a detailed explanation of Shreger lines and ivory identification in general.
See http://www.whitehouse.gov/the-press-office/2014/02/11/fact-sheet-national-strategy-combating-wildlife-trafficking-commercial-b
See Also: http://www.whitehouse.gov/the-press-office/2014/02/11/fact-sheet-national-strategy-combating-wildlife-trafficking-commercial-b
Summary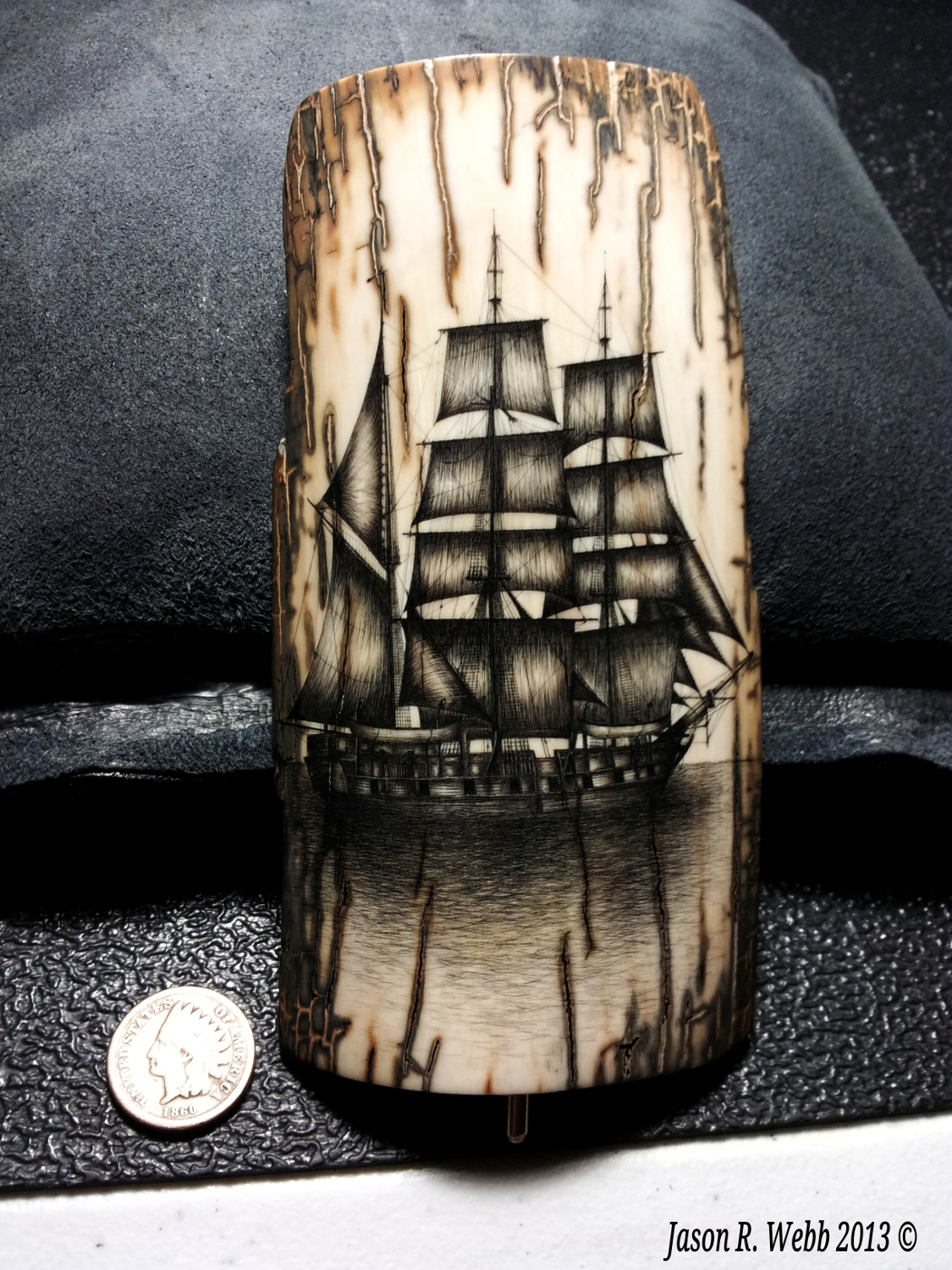 Article Name
First Mammoth Ship: Mammoth Ivory Scrimshaw by Jason R. Webb
Description
First mammoth ivory scrimshaw by Jason R. Webb and interview
Author
Publisher Name
Publisher Logo