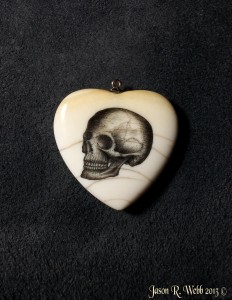 Jason has just finished another Halloween scrimshaw, this one on a beautiful heart shaped piece of mammoth ivory, and he's done this as a two-sided work.  One side has a skull intricately scrimmed on it's curved surface with the detail and shading that is becoming his trademark.  On the other side is an exquisite cross that looks as if it were made of wrought iron.
Jason's eye for design and detail comes from many years of drawing, some art schooling and a passion for his craft.  See Jason's interview page for more information on this contemporary scrimshaw artist.
Do you have a scrimshaw project you'd like to discuss with Jason?  Email him at jasonwguitar@gmail.com with the subject "scrimshaw" and he'll be glad to respond.