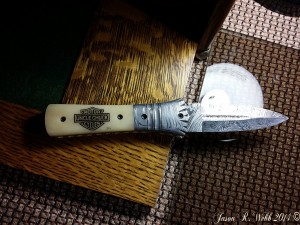 Jason has just finished a Damascus folder on commission that was a challenge!  Instead of mammoth ivory, this piece was scrimmed on camel bone.  Camels are not only beasts of burden but are also a source of sustenance in many countries.  Bone is less dense than ivory, and also has pores that can create a grey haze behind your scrimshaw. Careful sanding and polishing helps, as does getting the material stabilized, but voids will still remain.  The best solution is selective inking and careful inspection after the piece is inked.  Jason has shared more information as he has gone through step-by-step on what has turned out to be a great work of art.
1.) First I cleaned some of the tarnishing as pictured here, halfway into it.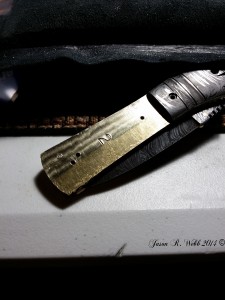 2.) This is after I very lightly sanded the camel bone with 600, 1500, and 2000 grit. Sanding to much would affect the fit of the scales against the metal, I didn't want any small lip of metal higher than the scales. Then I polished it up nicely! Although it was still a tiny bit porous, that's just the way it is, it's bone.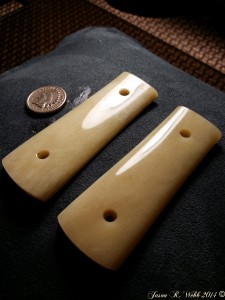 3.) Halfway through scratching.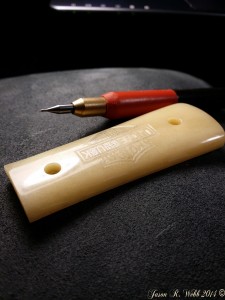 4.) Scratching complete, it took a while. Stippling would have been VERY time consuming!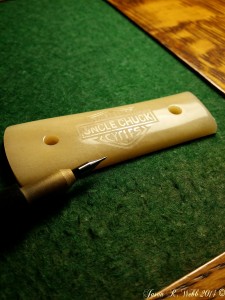 5.) Now it's ready for ink. I taped off as much as I could with scotch tape due to some deeper pores, if it was ivory, I wouldn't have used any tape.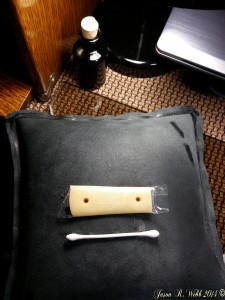 6.) Swabbed on what I thought would be the only round of ink. It took 3 rounds.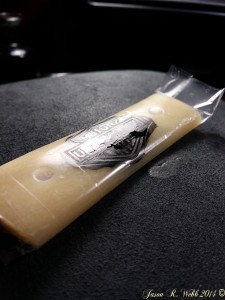 7.) After rubbing with a sheet of notebook paper and picking out any tiny imperfections, this is the result.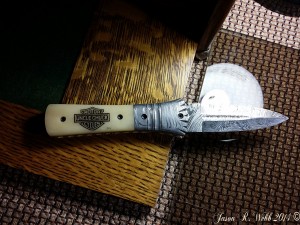 8.) So after I taped the knife off with some blue painters tape, I sprayed a coat of "some secret stuff I use" onto the surface of the bone, it dries in seconds, good solid stuff. I don't normally spray my scrimshaw with anything, I just usually buff with a light coat of wax and done. But this knife may see some use, so with this protective coating, (not your average laquer), water, change jangling in a pocket, and repeated sheathing shouldn't even faze it. In the photo it's completely dry, closely matching the natural shine of the untouched scale on the other side.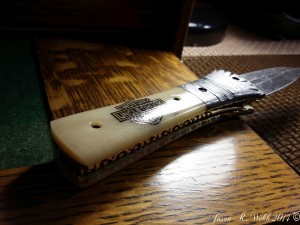 9.) I personally delivered this knife to the customer's home, where I took this last photo.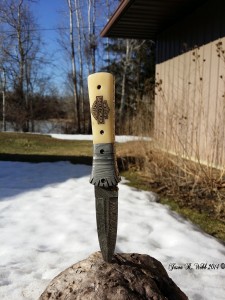 Jason completed the scrimming of this knife in fifteen hours! You can see the attention to detail around every letter, and the wonderful execution of this one of a kind knife.  I'm sure the owner is pleased!
You can inquire about your own custom work from Jason via email: jasonwguitar+c1[at]gmail.com