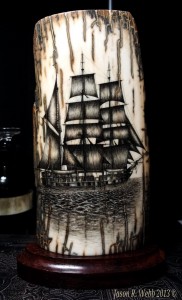 Scrimshaw Artists International Competition
Congratulations to everyone who entered the International Scrimshaw Competition! The works of art were all amazing. Both Jason Webb (picture of entry below, used by permission), and Nick Finocchio entered into the competition along with many other masterful scrimshaw artists like Mark Thogerson and Jim Stevens.  Piano key ivory, antique billiard balls, mammoth ivory that has sat under the ground for thousands of years, even a mirror and brush set were scrimmed on and entered into the competition. The styles sizes and variety shows that scrimshaw is still alive and well, and the artists are as innovative as they are creative.
See all the entries at: http://www.scrimshanders.com/pages/about/contest13.php
Also – Jason Webb's page has been updated (see near the bottom for more of his interesting work!)
Scrimshaw Artist Nick Finocchio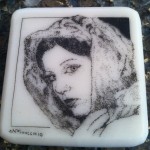 Nick works on traditional as well as non-traditional media and has a wonderfully detailed yet rustic texture to his work. His subjects range from wildlife to nautical to nudes. We're hoping to get more information from Nick and we'll post it at http://www.scrimshaw.com/artist-nick-finocchio/
Confirmed Mystery Artist #12 Peter LaJoie!
We got a confirmation of the artist in question for the Mystery Artist #12 – Peter LaJoie – See http://www.scrimshaw.com/mystery-artist-12-pl-peter-lajoie/.  Thanks to Al Douchette for the information!
Article from Fretboard Journal Regarding the Sale of Ivory in California
A good article about the sale of ivory in California.  (link)
Mystery Artist #12 – PL Peter LaJoie?
We have another mystery artist with the initial PL.  The owner has done some research, and it could be Peter LaJoie… (read more)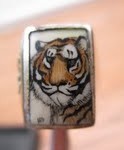 Mystery Artist #11 – Tiger Ring with initials HN or HM
The owner of a beautiful sterling silver ring with the initials "HN" or "HM" is looking for it's maker.  Oblong and rectangular the silver looks as if it were cast, but we aren't experts in silversmithing. (read more)
2013-02-17 – Jason Webb's Ship #6 Pics
Jason has shared a sequence of pictures of his ship #6 from close to the beginning to the finished piece.  We're in progress on the page, but wanted to share his stunning work.  See it at http://www.scrimshaw.com/scrimshaw-artist-jason-webb/jason-r-webb-ship-6-sequence-of-progress/
2013-02-06 – Mystery

Artist # 10
Bolo on an antler "button" – this has the initials "MN" – read more…
2013-02-05 Local Scrimshander needed for Long Island, NY for a March 3rd Family Event
Nomi is looking for a local artisan who would like to show their art on Sunday, March 3rd, 2013.
Contact: Nomi Dayan – NDayan[at]cshwhalingmuseum.org
Cold Spring Harbor Whaling Museum
301 Main St – PO Box 25
Cold Spring Harbor, New York 11724
2013-01-28 – Book from the New Bedford Whaling Museum
Jack Chang brought this book to our attention: Ingenious Contrivances, Curiously Carved: Scrimshaw in the New Bedford Whaling Museum

A coffee table book detailing 700 of the over 5000 pieces of scrimshaw at the New Bedford Whaling Museum. Beautifully photographed, you can see… (read more)
2013-01-23 – Mystery Artist #9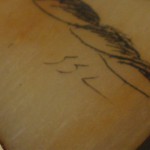 A folder has surfaced with the initials SSL, a ship, and a piece of rope scrimshawed on the opposite side… (read more)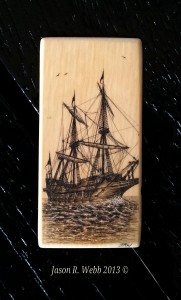 2013-01-09 – Jason Webb's Page Updated
Jason has just finished another piece, this one on antique piano key ivory.  His abilities continue to astound.  Several pictures on his page, including an excellent picture of the work in progress.
2013-01-05 – New Scrimshaw Pattern
We've added a new scrimshaw pattern, and pulled the old one. "Abandoning the Bark Kathleen" is a classic image that can be a challenge, depending upon the detail you wish to include. The people can be seen to the left of the ship in the skiff, the whale's tale to the right. The rigging is well detailed in the original picture. The sized tracings in the pdf allow you to tape the page right onto the ivory and get the general outline of your piece by piercing through the paper, making a "dot-to-dot", and there are sizes from 1 inch to 2-1/4 inches. Look to the right for links, and enjoy!
2012-12-31 – Mystery Artist #7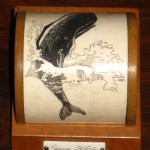 The initials are either MUL, HUL or three other initials too stylized for us to ascertain, but the beautiful piece is of a breaching sperm whale set on a mahogany base.  The owner would love to know more about the piece and the artist… Continue reading…
2012-12-30 Mystery Artist Found!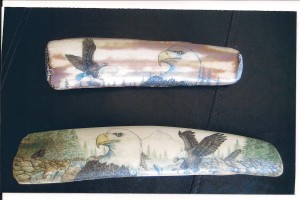 Philip Hayde (not Hoyte, as previously mentioned) just contacted us.  He's alive and well, living on the West coast.  See the comments below the post in the  Mystery Artists  page.  Thanks again Philip!
2012-12-15 Looking for Florida Scrimshaw Artists
We're looking for active Florida scrimshaw artists for an upcoming project. Please contact us at Questions[at]Scrimshaw.com. Thank you!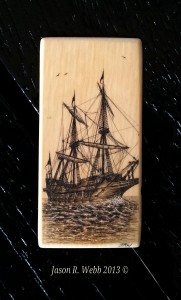 2012-11-17 Jason Webb – Scrimshaw Artist Interview
We had the pleasure of doing an email interview with scrimshaw artist Jason Webb.   A self-taught guitarist and artist and scrimshander, Jason is as resourceful as he is talented: –
2012-11-13 Mystery Artist #6 Mateus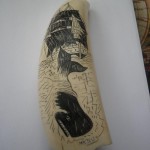 The Mystery scrimshaw artist for November 2012 scrimshawed a whale tooth and signed it "Mateus". This is a whale tooth currently in Ontario Canada. "Mateus" – continue reading
2012-11-11: Bee Eater Scrimshaw on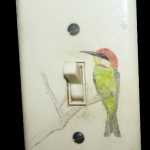 Mammoth Ivory and on a Lightswitch
The Williamsburg Church Fair has come and gone, and I couldn't squeeze in the time to create a Williamsburg themed scrimshaw.  So instead, I brought along a Bee Eater Scrimshaw on Mammoth Ivory.  The fair went well, they were able to raise over $6,000, though I'm sure my scrimshaw only did a fraction of a percentage of that much. …continue reading
2012-11-07: The Brady Block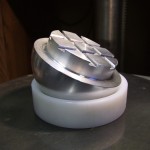 (Originally published 2012-09-06)
The BradyBlock is a great tool for scrimshanders and engravers alike.  Allowing you to not only turn your piece 360 degrees, you can also tilt it easily getting the best angle without having to readjust your lighting.  Your piece is held by a piece of putty or other adhesive material that does not "give" too much, yet holds it firmly. The base is small and lightweight, and you don't have to secure it to the table, … continue reading
2012-07-12: Looking for a Scrimshaw Artist in the Idaho Area…
…for a special project to be done for someone in the area.  Any Idaho'an scrimshaw artists out there?  Leave a comment and I'll see if I can connect you to the person heading the project.  Thanks for reading!
2012-06-18: Linda Layden
on the Artists page. Another prolific and novel artist. Wide variety of items and subjects.
2012-06-04: Michael Cohen
on the Artists page.  An amazing variety of subjects.  He's near the bottom of the page.
A New Page: History of Scrimshaw
has just been finished. No pictures at the moment.
In the How-To section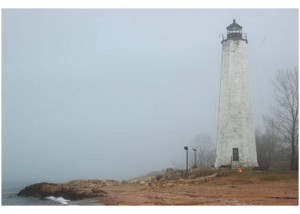 We have an excellent picture of a lighthouse for beginning artists as well as a basis for more accomplished scrimshanders. We've created a pdf so you can print it out then choose your size, plus at the bottom there is a large size image for reference. See http://www.scrimshaw.com/lighthouse-point-scrimshaw-patterns-template/ for more information and a link to the pdf. I want to thank Chris Amelung again for putting this up as a creative commons photo, and his gracious email when I asked him if I could use it in my beginner's scrimshaw book.
Kraken Blog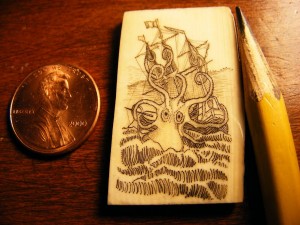 Finally finished the Kraken with a coat of archival wax and a couple of touchups.  Pierre Denys de Montfort penned the original illustration in 1801, after he was inspired by a description from 1783 of an eight-meter long tentacle found in the mouth of a sperm whale. The ancient piece of mammoth ivory measures 15/16″x 1-1/2″, and was hand scribed using a tungsten carbide scribe from Coulter Precision Tools (also on Etsy).
Also added a "collage" of the Kraken in progress.
Mystery Artist Section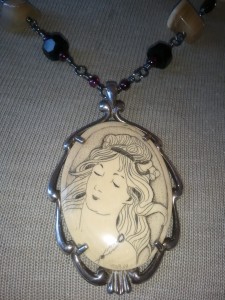 Mystery Artist Found (actually the Mystery Artist found us!) She is still an active scrimshander, but currently does not have her own site.  We are happy to be able to connect the owner and the artist of this beautiful piece.  There are several others that remain a mystery, so any help would be appreciated!
See Mystery Artist for more!
Scrimshaw Books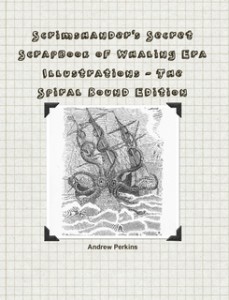 "The Scrimshander's Secret Scrapbook of Whaling Era Illustrations" – continues to be popular.  A resource of whaling illustrations for beginner as well as accomplished scrimshaw artists, it is available in e-book form as well as spiral bound for ease of scanning.
Also added several of my favorite scrimshaw books and DVDs in our Books section.