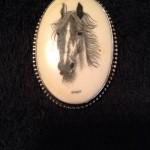 The artist's name was Ellery Knight. Thanks to Dario for sending us the information! You can see the original post at http://www.scrimshaw.com/mystery-artist-16-knight/ and the information Dario has shared.
Some of Ellery's other work can be seen on the following links:
There are several other mystery artists we haven't been able to match, and if you have a piece of scrimshaw you'd like us to feature on our site to help you find and possibly connect with the artist, please contact us at "questions@scrimshaw.com" with the subject "mystery artist".  A good picture of the work along with a close-up of any initials or signatures helps.  Also let us know where (what city/state) you found the item – scrimshaw artists are all over the states, and all over the world!