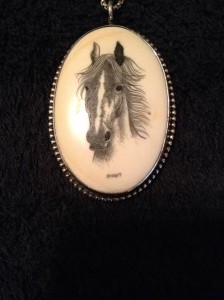 I could make a cheeky comment about this horse missing it's knight, but we're not giving up our blog for the comedy circuit.
We have an email from someone who has a beautifully scrimshawed horse on a pendant purchased in the Agoura California area in 1976 – 1977.  The name Knight is in block letters toward the bottom.  Its owner would love to find out more about the artist and if they are still creating scrimshaw, as well as any history about the piece.
Simply respond in the comments if you can help, it's greatly appreciated by owners and artists alike.