We had an inquiry regarding a bracelet recently which was purchased in Nantucket we'd like to share:
"Returned from vacation on Nantucket Island.  I purchased a bracket from the Murphy's store on Maine St.  It was lying in a case that had an original basket designed pendant by A. Doucette.  The clerk told me the bracelet was an A. Doucette design but that the oval shaped discs with ink designs of ship, whale, basket, island, schooner, ferry, lighthouse and Nantucket signed ship, were not of ivory  and she did not know what the composition was but not to get the bracelet wet.  I paid $82 plus tax for the item.  It is lovely but I would like to know what the white shaped ovals are made of.  Thank for you for any info."
Due to internet issues she was unable to send the pics for quite awhile, so emails and possible solutions went back and forth. Meanwhile, I was in contact with Al Doucette, the former owner of "The Whale's Tale" regarding some of his work both past and present, and when we finally resolved the photo issues I forwarded the pics to him: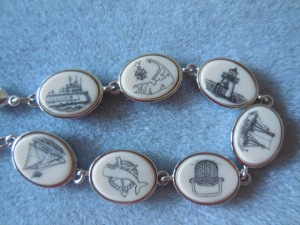 "…Andrew, 
That is my bracelet ! I have been doing this bracelet as a story bracelet for a few years in sterling and ivory….but last year I decided to make this one that I designed in base metal and plated and the inserts are cast in resin…if they look on the back I engraved Atlantic Originals and A. Doucette 2013.    I have done the story of nantucket ( that one ) and also the story of the New Bedford Whaler Charles W. Morgan that was restored at Mystic Seaport and sailed on its 38th voyage this summer…"
This had to be the fastest Mystery Artist we've had the pleasure of doing. Al is still very busy doing scrimshaw as well as carvings and sculpture and is difficult to pin down for an interview but as a scrimshander, patience comes with the territory.  Al has shared a number of pictures of his work with us and we're working on putting up a page on the site to highlight his work.  We'll add a link in the "Artists" page shortly so everyone can see the work of this truly prolific artist.
If you have a piece of scrimshaw that you need help identifying, send an email along with some high resolution pictures to "questions@scrimshaw.com". We can't guarantee such a fast turnaround, but we've found a number of artists and have been able to answer some questions about them.