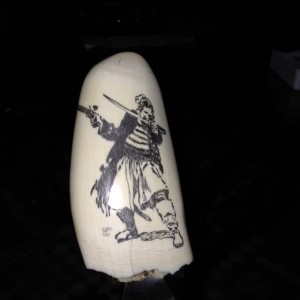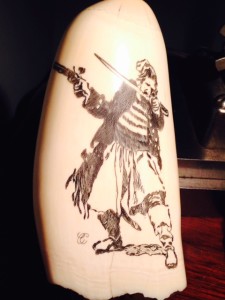 Mystery Artist #22 was purchased in Paris France about ten years ago.  The signature appears to be "EC", or perhaps "CC" in the lower left corner.  The stance along with the "toothpick" in his mouth shows him steadying himself either due to heavy seas or perhaps he just came out of the tavern?  Either way, it's a memorable pic.  Anyone who knows the artist or their whereabouts and can let us know more about them it would be greatly appreciated. it's a wonderful piece of scrimshaw!
UPDATE – Found the original illustrator: Howard Pyle
From the late 19th to the early 20th century, Howard Pyle wrote and illustrated during this time, being one of "the founders of present-day Illustration".  A brief history can be found here: https://en.wikisource.org/wiki/Howard_Pyle%27s_Book_of_Pirates/Foreward
The original illustration can also be found there.