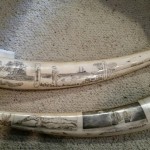 We have another mystery artist! This one has the initials "FJG" who had done a large work on a pair of tusks, including scenes of ships in battle.  Some small areas are colored as well.  Inscribed on the back of one of the tusks is "Sept 23 1965 Mekoryuk Alaska" with some simpler scrimming, which looks like it was done by a different artist.
Clicking on the pictures will bring them up in full resolution.
Any ideas? Comment below if you know the artist, the owner would love to find out more information about these wonderful scrimshaws.