The owner of a scrimshaw letter opener that was purchased in South Carolina is looking for the artist and its origin: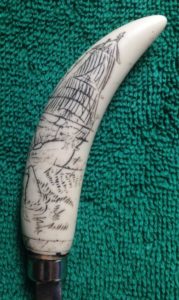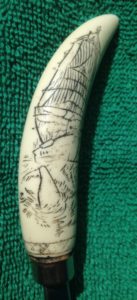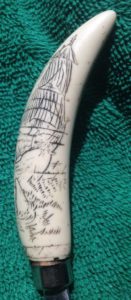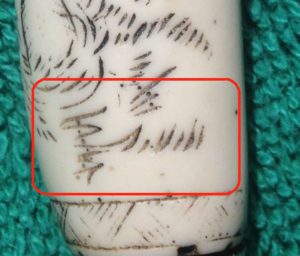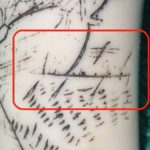 "I recently acquired this Scrimshaw letter opener at an auction in Raleigh North Carolina. My knowledge of Scrimshaw is extremely limited, so I'm hoping that some folks can help provide some additional information with regards to this piece.
"Attached are a series of images showing the opener. At this point I'm not even sure if the piece is real or not. Maybe this is a common fake, I just don't know. If real obviously it was turned into a letter opener at a much later date than the Scrimshaw was done. Maybe it's my imagination but it looks to me like the piece is potentially signed as seen in the close-up of one of the images. If so I'm not sure of the signature, though I did see online that in 2015 in England a Scrimshaw opener (though the blade was actually carved out of the piece and not a separate attachment) was sold at auction by an artist named Able Webb  and dated 1837 (that was the spelling they used). What looks like a potential signature in my particular piece also resembles an "A. Webb" though it truly could be anything, or maybe not even a signature. Also as shown in one of the images there looks to possibly be some additional writing, and if so I'm guessing it's the name of the ship. It's a fairly long name, and looks to possibly start with an "S".
"If anyone can provide additional insight on this piece please do so. Thanks up front for any and all information.
"Best Regards,
"Scott