The owner of a ring purchased in the Mystic Seaport area between 1974-1978 with the signature of JON is looking for information about the artist: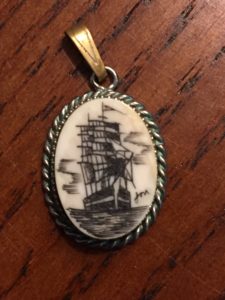 "I purchased a pendant and ring at/near Mystic Seaport between 1975-1978 directly from the artist. Can you help identify? … his first name is "Jon" and he told me it was elephant tusk material at the time because whale bone was outlawed."
A nicely made scrimshaw, the signature is quite clear.
Anyone know the artist? Renee would really like to know more information about them and the artwork.
Respond in the comments below if you have any information, and thank you for looking!
Found! – Bill Feeney was a big help, having some of his paintings. "Jon Medeiros" is the artist, as more information comes in, I will update this post.