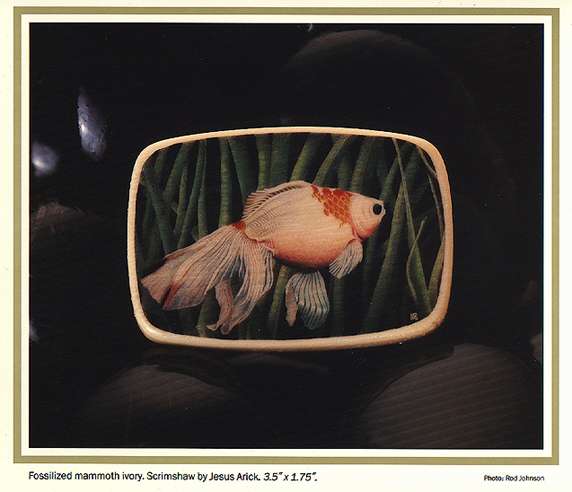 Oso Famoso is a name many older "scrimshaw geeks" may remember, as he was one of the first to show and sell scrimshaw and fossil ivory online.  I especially remember the goldfish by Jesus Areck, and seeing the raw mammoth ivory so close yet financially out of reach for me at the time.  I'd frequent his site and pause for up to an hour just to look at the fine artwork he had there.  "I had started being a supplier of fossil ivories and scrimshaw artist's representative in the early 1970's. I would spend some weeks every summer on St. Lawrence Island, Alaska getting fossilized walrus ivory from the Yupik natives. I would provide material and money for various artists, mostly in Bellingham, Wa. and they would give me back what was generally excellent work.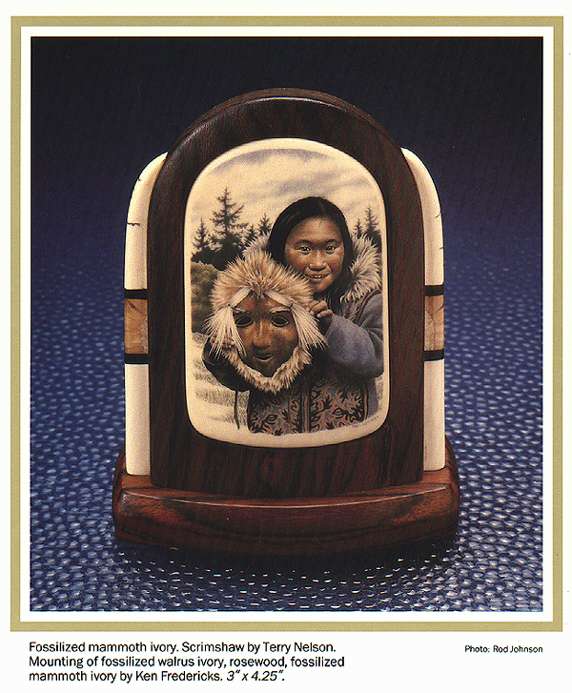 "My mountings were mostly produced by Ken Fredericks of Bellingham, who is now deceased. I haven't been active in commissioning scrimshaw in a number of years. …"
Oso: "Whatever is legally able to be sold is available for new ownership, and on the market. I am not seeking any business that violates existing law." So – California, New York and New Jersey sales are definitely out, and you will need to check your local state laws to see if it's legal to purchase any of these beautiful pieces.
"None of these pieces have been recently made. The artists include Chris Lehwalder, Gary Dorning, Heidi Robichaud, Jesus Arick, Kevin Pettelle, Kurt Sperry, Susan Ford, Scott Halligan, Scott Judge, Terry Nelson. The great majority of these pieces use mammoth ivory or fossil walrus ivory."  Some of the pieces may not be available at the time of this publication since they will be sold, others may not be obtainable due to specific state restrictions.
I've got some small pics below the fold. Contact Oso for larger pics that really do the pieces justice
Anyone interested in acquiring any of these one-of-a-kind pieces may contact Oso at oso@osofamoso.com