Added a couple of pics to existing posts.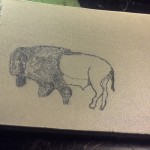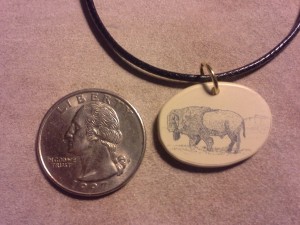 The Buffalo on Paper Micarta is slowly ambling its way to completion as I experiment with textures. It is a medium that can capture lines far better than I first imagined, but it is still softer than ivory.
Update 5:00pm EDT  Decided to finish it off this afternoon after a frenzied camper dropoff.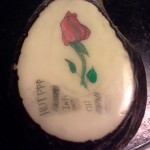 Added the final pic of the Tagua Nut Rose experiment, carefully inking the colors using India ink and a 000 brush. Like the effect but you have to be real careful with the ink.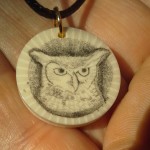 The "Merlyn's Owl" is finished and the recipient is thrilled. Coated it with a final layer of Renaissance wax once it dried and sent it off.
Look into the comments section, too – have an inquiry for a husband and wife scrimshaw team that worked in Ohio in the 1970's that an individual has asked about.  Preliminary search didn't find them, hoping to get some pics of their work so we can put them up as a "Mystery Artist".