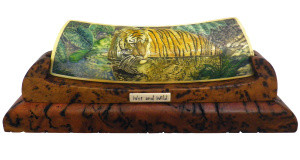 While the word "addiction" often conjures up negative images of a dependency on a substance, it is also defined as "enthusiastically devoted to a particular thing or activity." It is in the latter definition that Rod Lacey has his addiction to scrimshaw.  His site, scrimshawaddiction.com is not only an information site but also an illustrated diary of some of his beautiful work.  In his "Scrimshaw Walkthroughs" section, Rod shows you from start to finish not only his abilities as a scrimshaw artist, but as an innovative craftsman as well, showing his unique presentation stands from concept to finished piece.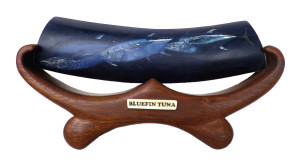 Rod has plenty of tips and ideas for where to get ivory, how to scrimshaw, scrimshaw shortcuts and more.  His site is worth a morning coffee's worth of relaxing and reading for both the scrimshander and the scrimshaw enthusiast.
He has also mastered the technique of acetone transfer – a time-saving way to transfer a stable image onto the surface of the ivory to begin the initial task of scribing the outline onto the material. Either due to impatience or improper technique, I have yet to do this with any consistency – but I'll keep trying.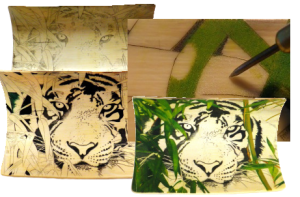 Rod and I had corresponded via email a couple of times, and he had shown interest in Galalith, the casein-based ivory alternative that is still one of my favorites.  He bought a special order 3″ x 4″ panel, I sent it off to him sure that he'd send me a picture or two of some of his finished work in due time.  After a little over one month, I got a small package from Queensland, Australia.  Inside was a note from Rod and a finished, full-color portrait of me from the back of my book "Scrimshaw? But I Can't Draw!" completely covering the 3″ x 4″ panel. I was shocked and elated that he took the time and considerable effort to create the piece, as well as fascinated and impressed by his work (I was also grateful that he gave me a little more hair).  Rod's abilities as a scrimshaw artist as well as a painter (inker?) shows an extreme attention to detail and a keen eye for color and shading.
While I have scrimshawed for over thirty years, my collection is truly meager, having only a few pieces from my original teacher and a couple of pieces of my own on various materials.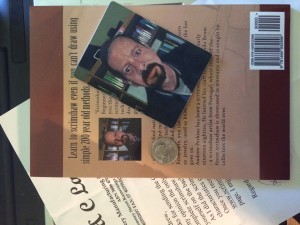 This piece is one of those few that I will be coveting.
Rod's artwork can be seen at his site scrimshawaddiction.com. You can contact him via his contact page on the site.