Scrimshaw Artist Jason Webb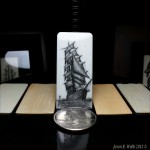 Jason (jasonwguitar@gmail.com) recently contacted us regarding a link to the artist's page, and we were so impressed with his work we decided to do an interview style page. For someone who has been scrimming for only nine months, Jason has a wonderful line style and his shading as well as his attention to detail is incredible.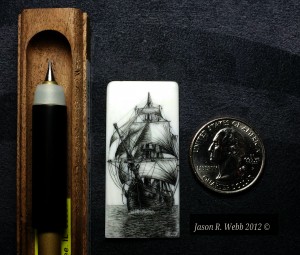 How did you get started doing scrimshaw?
I stumbled across scrimshaw on the internet, and that's how I started. I've only been scrimming for 9 months and a lot of the other scrimshaw artists have really been digging what I've been doing so far. So pretty much I'm just starting out and trying to get my name out there.
Have you had any training?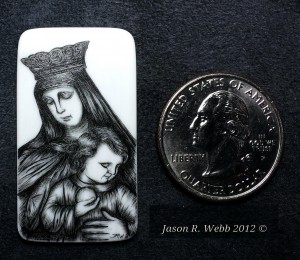 I am just starting out in scrimshaw, however I've been an artist for most of my life, specializing in black ink drawings. I was around 8 or 9 years old (just guessing here) when I started taking art classes at the Toledo Museum of Art, located in Ohio, although I really don't attribute any of my skills from having that experience.
I emailed Sandra Brady showing her my first pieces of scrimshaw, and later met her at her studio, 5 minutes from my grandpa's summer home! She helped point me in the right direction and got me connected with other scrimshaw artists, she is such a nice person. Then I'd entered the International Scrimshaw Competition in Rhode Island, only 6 entries out of 30 or so sold, and one of mine almost sold according to the owner.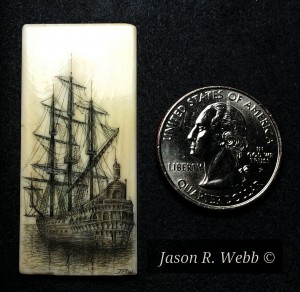 What materials have you scrimshawed on, and what are your favorite subjects?
[A] lot [of my pieces] are pre-ban antique piano keys, this is the only ivory I have ever scrimmed on, besides the piece of walrus ivory on the base. Someone from California sent me the walrus ivory to do work on, and that is the only piece of fossil I've ever worked on. I really don't have a preference on the material that I work on as long as it's ivory, no antlers, bone etc. I have no problem doing custom work, but in the short time I've been doing this it seems ships are my favorite thing to do.
What pigments do you prefer: ink, oil paint or another type?
I only like black pigment (india ink), I've tried the oil paint, however oil just doesn't do it for me, I also prefer line work over stippling.
As for tools, the CoulterPrecision tool is the one and only tool I use, I also have Charles Coulter customize the degree of the carbide points for me. I don't use any microscopes or mechanical tools (except a dremel for polishing/buffing), everything else is done by hand, like sanding, shaping, etc.. I use an optivisor to see better though.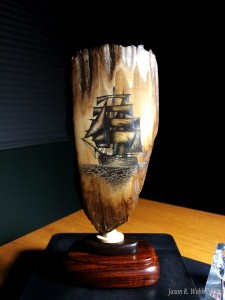 What was the most difficult piece you've done, and what was the most challenging part of it?
It's hard to decide what piece was the most difficult for me, as I've only done a handful of pieces, but they would have to be portraits. With portraits you really have to capture the exact likeness of the subject, it's best to start with the eyes or something difficult, that way if you screw up, it won't take long to sand, buff/polish and start it over.
With piano keys being so thin and tiny, they take me around 10 to 12 hours to complete, not to mention, there is not much room for error. I can't wait to get started on some big pieces, then I will be able to employ much more detail. I don't let any piece I work on leave my possession without feeling like I gave it 100% effort, I want whoever receives it to be absolutely amazed and satisfied.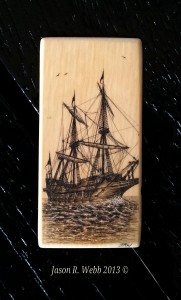 Do you have a workbench or workspace you like to use?
I don't have any kind of workbench or fancy studio, it would be nice, but I just do this stuff on a coffee table in my living room for now.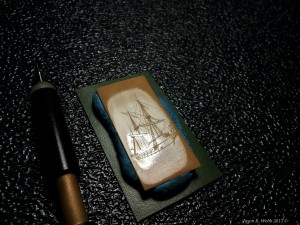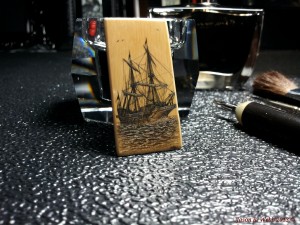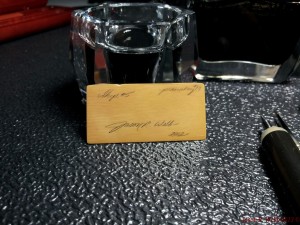 Who's work do you admire the most – is it scrimshaw, painting, photography, engraving or something else?
Sandra Brady and Salman Rashidi, both being master scrimshaw artists and extremely nice people, have really helped me out in getting started and continue to do so, so I am very thankful for that. The scrimshaw artists that I admire most are Salman Rashidi, Bob Hergert, David Adams, Matt Stothart, Sandra Brady, Darrel Morris, David Smith, Dale Fisk, Linda Karst Stone, Robert Weiss, Ron Luebke Jr., Katherine Plumer, Lori Ristinen, Howie Rosenfeld, and Adam Funmaker. I probably forgot to mention some people, but everyone in the scrimshaw family has their own unique styles and talents, and all of them deserve admiration!
Update 2013/02/17 – Come see Jason's work on Ship #6 – a sequence of his work from near the beginning to the finished piece.
Jason does custom scrimshaw and is available as an artist for your creative ideas! He can be contacted via email at:jasonwguitar@gmail.com
Update 2013/09/30 – Jason entered his latest mammoth scrimshaw in the international scrimshaw competiton. Working with ancient ivory can be a real challenge. His ship and the waves are stellar, and he was able to work with the crazing to make this spectacular piece. Incredible detail on a 5″x3″ piece. Also below, several pictures of Jason's latest piece for October 2013, a two sided scrimshaw on an ancient mammoth ivory heart.
Also some recent work on a deer skullcap.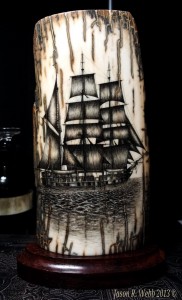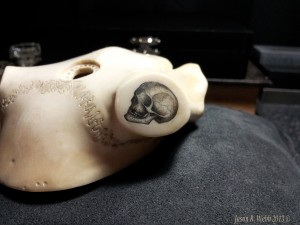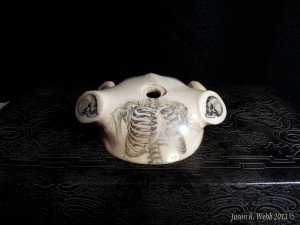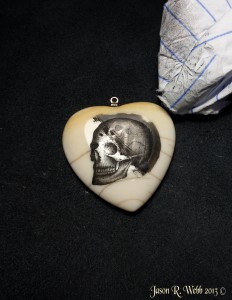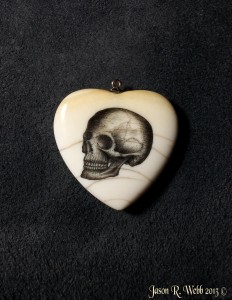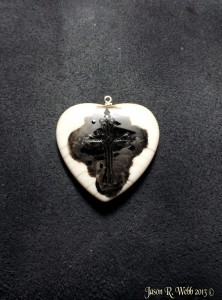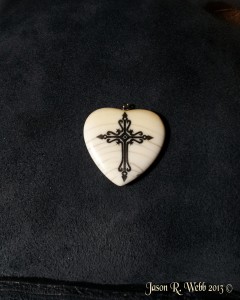 Update – November 15, 2013
Jason's latest work on an ivory oval – a scrimshaw skull with a cross on the opposite side.
See http://www.scrimshaw.com/jason-r-webb-skull-scrimshaw-november-2013/ for all the pics!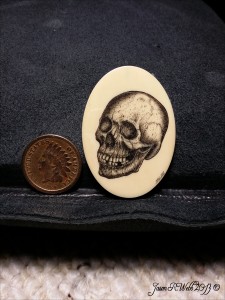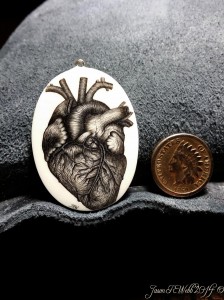 Update Feb 2, 2014 – See Jason's Latest work of art – a scrimshaw heart!
Update October 2014, Jason's latest creation: Lucille Ball Scrimshaw Pendant: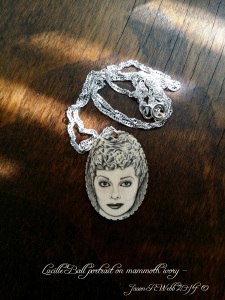 Update 2015-01-17: Mammoth Display Piece #2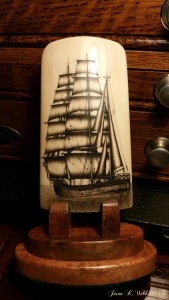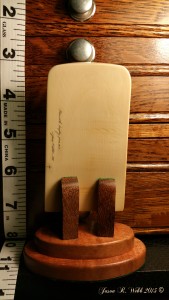 2015-12-05
Jason has created a beautiful piece of Jesus Christ on pre-embargo elephant ivory. Clicking on the pictures will bring up high resolution images.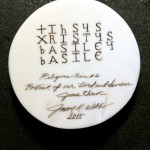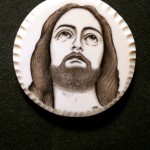 2017-11-21
Jason has been very busy focusing on his family, but has had a chance to finish a piece on mammoth ivory shown below. It was a challenge, since mammoth can be very hard, very "spongy" or a mix of the two. He met the challenge and succeeded! The subtle shading really gives the cross a 3 dimensional effect.