Scot Kimel, Scrimshaw Artist, owner of Carolina Custom Scrimshaw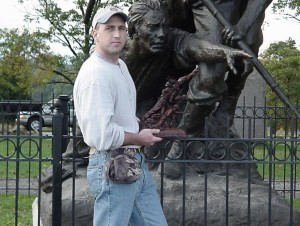 1) When did you start scrimshawing, and what inspired you to do so?
I began sometime around January 2006.  I was visiting Charleston S.C. and they had a few pieces of antique Scrimshaw on display in a museum. I began looking into purchasing scrimshaw from contemporary artists and right away knew that if I was ever going to have any scrimshaw, I would have to make it myself.  I just could not afford to buy it on my salary as a law enforcement officer.  Up until visiting the museum I had only seen scrimshaw on those cheap schrade reproduction knives.
2) what materials do you use? Mammoth ivory, pre-ban ivory, tagua nut, synthetic alternatives?
I use whatever the customer wants, I have done scrimshaw on everything from pre-ban ivory all the way down to the synthetic resins.
3) what tools do you use?  Do you make your own or is there a specific brand you prefer?
I use x-acto blades and carbide scribe bits mostly.  It all depends on whether I am stippling or doing a traditional line scrimshaw piece.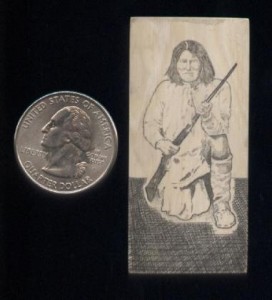 4) What is a favorite theme that inspires you the most to commit your art to ivory?
I don't really have a favorite theme, I really like nautical themes and seem to enjoy doing them the most.  Portraits have been very popular recently.
5) Do you make a living with your art?
I don't make a living with scrimshaw, I think that I probably could if I were to devote more time to it.  It's a nice supplement and a great stress reliever. I am a Detective/Sergeant in Criminal Investigations with a local law enforcement agency in North Carolina. That is my primary income and source of stress!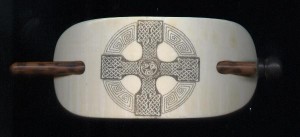 6) How would a beginning scrimshander find materials to use?
The internet. There are several suppliers that are great to work with.  My favorite supplier of pre-ban Elephant Ivory is David Warther in Ohio.
7) Do you ever teach or mentor?
I haven't as of yet, but I certainly would be glad to offer my limited knowledge to anyone who has questions or is interested.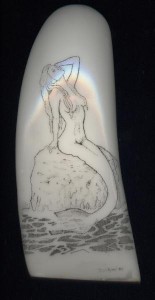 8) What was your favorite piece to date, and what was it about it that makes it so memorable to you?
They are all my favorite!  Every piece that I send out is a little piece of me that I hope the buyer enjoys and can pass down to future generations.
9) What was the most difficult piece you've done, and what was the most challenging part of it?
The most difficult piece so far was a mammoth Ivory cuff that I did for a well known jewelry designer in New York.  The entire piece was curved and the shape of it was unlike anything that I had ever done.  It was very difficult to keep my aspect ratio while scribing the design.
10) Can people see your art in person?  Do you have a shop or do fairs?
I have a studio in my home where I do all of my work and visiting is by appointment only.  My work schedule doesn't allow time to travel to any exhibitions or art fairs. Most of my work is commission based and most orders have come in via the internet and word of mouth.
11) Who's work do you admire the most – is it scrimshaw, painting photography, engraving or something else?
David Smith, Jim Stevens and Bob Hergert are favorite Scrimshanders of mine. Also Peter Driscoll who only lives 10 minutes away from me was kind enough to invite me into his home when I was first beginning back in 2006 and show me some of his work, the tools that he uses and even gave me some old Ivory piano keys to practice on.  Up until that point I had only dared practice on synthetics.
12) What's the average time you spend on a piece, for example, if it was black and white, and approximately 1″x3″?
Every piece is different depending on the detail involved in the scene.  Also whether or not it is a traditional line scrimshaw or a more modern stippling design.  Stippling takes considerably more time to do than the traditional line method. I would imagine that a 1" by 3" design would probably take me 6-8 hours if it were a traditional line design with a traditional sailing ship on the ocean scene.  A similar scene of the same size if done in mostly stippling would take me twice the time or longer. Again this would all be depending on the amount of detail that I put into the ship, background, etc…  In reality a piece is never "finished" You have to come to a point in the design and say "OK, that's enough"
Scot's site can be found at CarolinaCustomScrimshaw.com