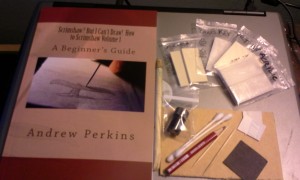 Like scrimshaw? Would you like to learn how to create your own?  Scrimshaw.com is now offering a scrimshaw kit with everything you need to learn this truly American art form.  Follow along in the book to learn how to scrimshaw even if you can't draw!  Our scrimshaw kit has two samples each of some of the most popular ivory alternatives used today, including "alternative ivory" with its distinct grain, paper micarta which is popular for scrimshaw as well as knife handle material, acrylic – a hard and easily scrimmed plastic and an imitation ivory piano key top and "tail" so you can create your own works of art for yourself, as gifts to others or to sell!
Act now to get this kit with all of the samples for 20% off the list price for  only $49.95. $39.95 including shipping and handling!
Here's what you get:
Book – "Scrimshaw? But I Can't Draw!
2   7/8″x1-7/8″ samples of Alternative Ivory
2   7/8″x1-7/8″ samples of Paper Micarta
2   7/8″x1-7/8″ samples of Ivory colored Acrylic
1  white acrylic practice piece
Beginner's Scrimshaw Tool
Bottle of India Ink
cotton swabs and toothpicks to ink your work
sandpaper to keep your tool sharp
double-sided tape to hold down your work
Plus – you get a paper template you can use to create your own cabochons from the materials provided using your own scroll saw or fret saw and a spiral blade available at many of the big-box stores or on Amazon.
In the book we list out many ivory suppliers as well as ivory substitutes, as well as easy instructions on how you can create your own scrimshaw creations simply and easily.
Only  $49.95. $39.95 including shipping and handling!
 U.S. Only Email us if you are outside of the United States so we can subtract the domestic shipping and add the international shipping.
30 Day Money Back Guarantee
After you have purchased the scrimshaw kit and if you find this is not the hobby for you, don't worry!
Simply email us with your original purchase invoice and let us know why (you can simply say "It's not for me.") We'll send you an RMA# (Return Materials Authorization number)
Box up everything – except the used cotton swabs and used toothpicks
yes, even if you've scrimmed one or several pieces,
no, we won't penalize you if you don't send back the sawdust or the little chips in case you cut your own pieces, but send back the pieces you created
send it back to us via US Postal Service with a "Signature Confirmation" – this insures the box of materials has indeed gotten back to us. 
Once we've received your return, we will refund the purchase price of the scrimshaw kit with no further questions.
Why would we do this?
We want you to try your hand at this vanishing art form. It's a great way to get away from it all without leaving the comfort of your home, and can be a wonderful and even profitable hobby, but if you find you don't have the knack, time or patience for scrimshaw, we appreciate you taking action and trying this truly American art.
What do we do with the returned kits? We will use unused materials ourselves to create scrimshaw and sand down and reuse any of the pieces already scrimmed ourselves.