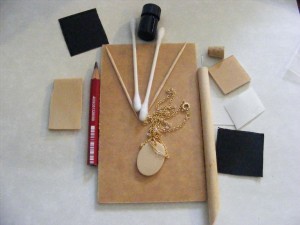 NOTE: We're currently sold out of our scrimshaw kits, but we're heading out to get more materials, and should be actively selling kits again by the third week in August, 2012.  If you can't wait 'til then, please visit our friends on the west coast Boone Trading Co. (boonetrading.com) for similar kits.  Tell them Scrimshaw.com sent you – they are very nice people and a pleasure to work with. 
Create a piece of history with scrimshaw!  Scrimshaw is known as the "true American artform".  Using basic tools and whale teeth or bone, sailors would wile away their idle time creating beautiful works of art, from their own observations, imagination or from artwork of the day.  Today, with finer points and better polishing techniques, the level of detail has become stunning.  Can't draw?  No problem! Our kit comes with complete instructions so you can transfer nearly any image onto the supplied mammoth ivory or other materials to create your own work of art to wear, give as a gift or sell!
Our scrimshaw kits have everything you need to get started in this fascinating art.
 A beginner's scrimshaw tool
"Scrap" ivory (like the one the kraken is being done on),
Ink
White Acrylic sheet for practice and reference
Free form mammoth ivory pre-drilled with necklace
Ink
toothpicks for precise placement of ink
Excerpt from "Scrimshaw? But I Can't Draw!" – Chapter 5
"The Brum Scrimshaw Technique (and other techniques)"
source for more mammoth ivory and other items to scrimshaw
You can easily learn how to scrimshaw with this complete kit.  Not intended for children under 12.