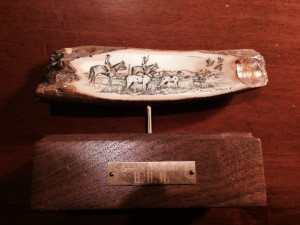 This scrimshaw was done by the artist Skip Powell in 1987.  The owner is in search of more information about the artist and if they are still actively scrimshawing.  It depicts a hunting scene with hunters on horseback and hunting dogs in the foreground.  The brass plate says"Especially Commissioned for H.H.H.".
Does anyone have any more information about this artist? This piece appears to be done on mammoth ivory. Leave a comment in the comment box if you know the whereabouts of the artist or any other information thay would prove helpful, and thanks for looking!
3/12/16 – Thanks, William – the work may indeed be from Skip Rowell.  About 5 minutes in, you can see an interview via Youtube. Would love to verify that this is indeed from this artist.