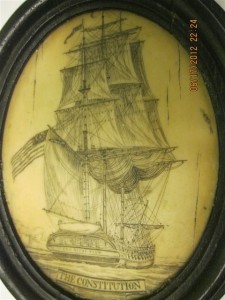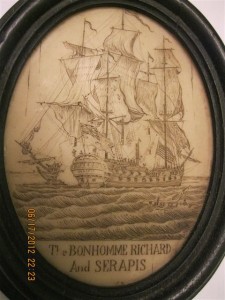 Mystery Artist #5
has done scrimshaw on some material other than ivory, but has done such good work, that another veteran scrimshander (who has been scrimming for 28 years) is looking for more information on the artist:
"…the plaques are on some kind of material other than Ivory  I did not do a test but it does not feel or look like Ivory. I have had these apart and found nothing on the back.
"The plaque measures 3-1/2 x4-1/2 x 1/4in thick and is glued in a wooden frame. the reason I made the inquiry is that the scrimshaw is done so well, thinking maybe a reproduction of some kind. I have been doing scrim since 1984 so I have handled different materials,this is such a nice set I would like to know the artist. thank you for your help.
"Charles"
So – 1/4″ thick, glued into a wooden frame, no markings.  Any clues or guesses?  Feel free to write us at questions@scrimshaw.com.
6/22/2012 Our friends at scrimcollector.com helped shed some light on the subject:
Vintage Maritime Ship Wall Plaques were recently sold on eBay.  According to the seller: "…I believe these were Victorian/Edwardian or later souvenier items, made to look like scrimshaw, moulded and glued in the man made frames which have been painted and backing cloth is no longer existing…"
7/26/2012 – Update:
"An anonymous artist has given us the following information: 'The plaques pictured were created from several Master patterns on Resin plaques & replica whale teeth & walrus tusks..This was around 35 years ago… " "…a company called Juratone who specialised in very high quality reproduction items….Such as scrimshaw netsuke & art deco bronze & ivory figures. …"