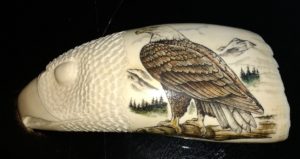 This is a fascinating piece. Both a carving and a sculpture, it's beautiful work that has been well cared for. The base edge and the general shape makes it appear to be a sperm whale tooth.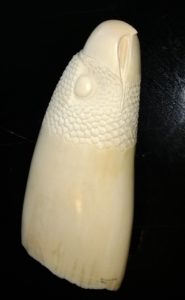 The artwork is in full color,expertly scrimmed with a spartan background that balances the work nicely.
The signature "Andhi" has some artistic flourishes to the left of the first initial. My impression is that it may have come from Hawaii, but I could be way off.
Any ideas? The owner would love to know more about the artist. Reply in the comments below, and any more information I can get I'll add to this post.