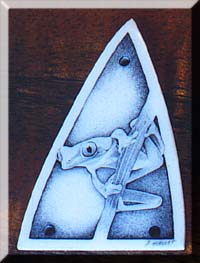 Bob Hergert is known for his incredible detail –
"micro-scrimshaw" is an apt name for his work.
I had the pleasure of interviewing him on the phone,
so we have an audio spotlight.
Bob Hergert Interview
Download (right-click and save for later listening)
Below are links I have been able to find that pertain to our conversation:
Bob Hergert's main site
Bellingham Scrimshaw
Coulter Scribing Tools
Stereo Microscope
Prismacolor Premier Colored Pencils
Harvey Leach Guitars
Larry Robinson Inlays
Scrimshander's Competition
Rick Fields – (scroll down in new window for example)
Winsor & Newton Oilbar Slim- Set of 6 Colors

MAX Grumbacher Oil Color 5ct Sampler Set

Oops, not Pitt, it was Faber Castell PITT Artist Brush Pen Set

Bob Hergert's Pool Cues
Billiard Supplies
Bob Hergert's Video
Summary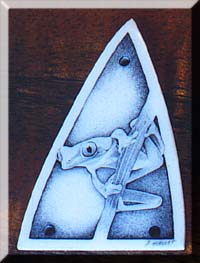 Article Name
Interview with Bob Hergert
Description
An audio interview with Bob Hergert, west coast scrimshaw artist frequently scrimshawing guitars.
Publisher Name
Publisher Logo