Last time, we tried just filling the voids in the bone scales with wax. This gave us spotty results – literally. Working with a couple of different formulations of cyanoacylate, we're at the point of – still looking.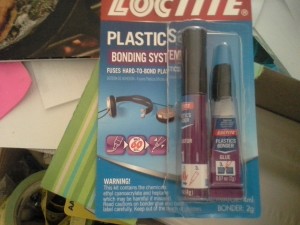 We attempted to follow the luthier's method of building up the material with the bone dust from sanding the bone smooth and used  Loctite Plastic Bonding System
which had an "accelerator" in the form of a marker made for gluing difficult materials.  This didn't work well at all.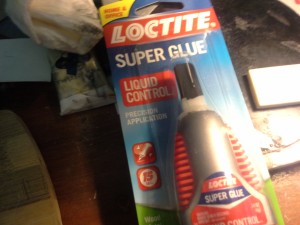 Next, we attempted to use some more off the shelf superglue – Loctite Super Glue LIQUID
(not the gel, as we want this to seep into the cracks and fill them in). Piling the bone dust up and squirting the glue on made – a mess, though it might look better once it's sanded down.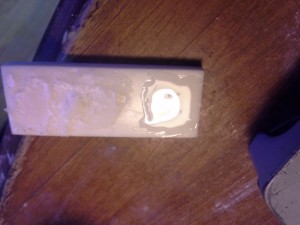 While we were waiting we looked at the other side of the bone and decided to just lay the glue straight down on that side to see if it worked any better.  My thoughts at the moment are that either (1) the bone dust is too fine and can't saturate well (like lumps in the pancake batter when you make it from scratch) or (2) I need an even slower curing superglue.
After letting it dry thoroughly, I proceeded to sand down both sides with 220 grit sandpaper, followed by 600, 1000, 1800, 3200 and finally 8000 grit pads.  Wiping some oil paint across the whole piece and wiping it off, I find that the bone dust side is just as bad or worse than the untreated area (center), but the right side where we used no dust is looking pretty good! After 30 minutes the glue is still somewhat soft for scrimshawing. I'll be testing it for "scrimmability" later in the week and will update my findings.